To know what an ambulatory care pharmacy is, we first need to know what ambulatory care is. Ambulatory care or ambulatory treatment is another word for any outpatient care. This is any medical care that happens outside of a hospital. According to the Agency for Healthcare Research and Quality, "these settings include medical offices and clinics, ambulatory surgery centers, hospital outpatient departments, and dialysis centers."
Therefore, an ambulatory care pharmacy is a pharmacy for patients who are transitioning from a hospital to another location such as back home or a next care facility.
Continue reading for more information about ambulatory care pharmacies!
What Does an Ambulatory Care Pharmacist Do?
Ambulatory care pharmacists are individuals that manage medication and an ongoing outpatient medical care relationship with patients. A major part of an ambulatory care pharmacist's job is educating patients and helping them to maintain their health and wellness. An ambulatory care pharmacist can help patients to manage ailments such as heart conditions, diabetes, or high cholesterol.
According to the American Society of Health-System Pharmacists, Ambulatory Care Pharmacists do a few different things:
Ambulatory Care Pharmacists provide comprehensive medication management for a wide variety of patients with chronic health conditions. They work closely with other members of the healthcare team including physicians, nurses, behavioral health specialists, and others.
Ambulatory Care Pharmacists may have an expanded scope of practice depending on their state and practice location. Most states allow collaborative practice agreements with pharmacists and physicians which enable pharmacists to initiate, adjust, and discontinue medications, order, and monitor laboratory studies, and perform limited physical assessment.
In some states including California, North Carolina, and New Mexico, Ambulatory Care Pharmacists may serve patients as an Advanced Practice Pharmacist (APP), Clinical Pharmacist Practitioner (CPP), or Pharmacist Clinician (PhC), respectively.
In addition to these aspects, a few examples of other services that ambulatory pharmacists can provide include filling prescriptions, answering any questions patients may have about prescriptions, immunization screenings and administration, working with laboratory tests, annual wellness visits, preventative care, chart reviews, refills, and researching.
Ambulatory Pharmacy vs. Retail Pharmacy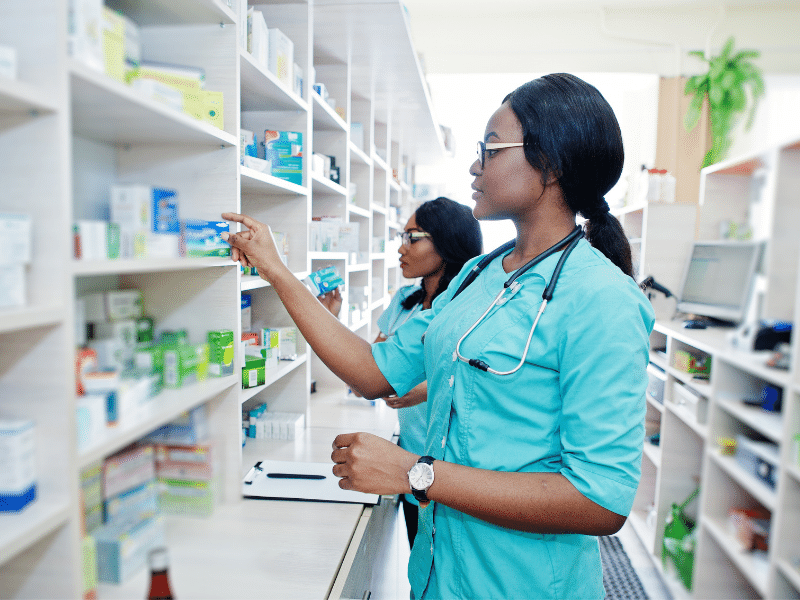 The major difference between ambulatory and regular retail pharmacies is the pharmacist's engagement with physicians or other providers.
An ambulatory pharmacist will work closely with a provider. The ambulatory pharmacist will also work much closer with a patient than a retail pharmacist would. Although a retail pharmacist can answer basic questions about drugs, ambulatory pharmacists can give more in-depth education to patients. Basically, a retail pharmacist works mainly on filling prescriptions and maintaining inventory.
How Do I Become an Ambulatory Care Pharmacist?
The requirements to become an ambulatory care pharmacist will vary state by state. 
However, you can generally expect these requirements to become an ambulatory care pharmacist:
Attain a 4-year bachelor's degree.
Attain 4 additional years of a Doctor of Pharmacy degree (D. Pharm).
Board certification/license. BCACP (Board Certified Ambulatory Care Pharmacist). There are also many other different types of certifications ambulatory care pharmacists can attain.
Clinical experience through residency or internship.
Continuing education and certificates.
According to the Board of Pharmacy Specialties, a BCACP or Board Certified Ambulatory Care Pharmacist participates and obtains these traits:
Has the advanced knowledge and expertise to focus on the special needs of patients who may have concurrent illnesses taking multiple medications, and who often administer these drugs themselves or with the assistance of a caregiver at home.
Provides long term direct patient care, developing sustained partnerships with ambulatory patients and practicing in the context of family and community
Integrates care of acute illnesses and exacerbations in the context of chronic conditions
Educates and engages patients in health promotion and wellness
Helps to manage patients in between provider visits, checking vitals, monitoring compliance, refilling prescriptions, and educating patients on the importance of taking their medications as directed
To maintain your standing as an ambulatory care pharmacist, you'll need to continually make sure that your certificates and licenses are up to date so that you can keep working. Ambulatory Care Pharmacists also need to have knowledge in many different areas to perform their work successfully. All the info you learn in school will be directly used and applied to real-world patients.
Becoming an ambulatory care pharmacist can be a great option for someone who may not like working in a retail or community pharmacy and who may want a closer connection to the patient. In addition to ambulatory care pharmacists, there are many other different types of pharmacists including oncology, insurance, pediatric, geriatric, and nuclear to name a few.
In addition to medical knowledge, you also need to have communication and relationship-building skills.  A big part of being an ambulatory care pharmacist is being very personable and welcoming.
According to Glassdoor, "The national average salary for Ambulatory Care Pharmacist is $121,757 per year in the United States." Ambulatory pharmacists saw job growth of 25% from 2010 to 2020 and this is only expected to continue into the future as populations age and the healthcare industry shifts.
What is the Economic Outlook for Ambulatory Care Pharmacies?
Ambulatory Care Pharmacies have a very positive outlook in the US.
With more of a focus on value and quality healthcare, ambulatory care pharmacists can be a wonderful addition to a medical provider's staff to maximize revenue. There is normally a high return on investments in pharmacists and even higher for ambulatory care pharmacists.
Because ambulatory care pharmacists need to be so diversified in their knowledge, they can come in handy in many different aspects of the medical field and thus will always be needed. These individuals serve as the link between outpatient care locations.
However, a major influence on ambulatory care pharmacies in the future is the medical payment process and regulations. There needs to be payment reform to make sure that there is appropriate reimbursement for ambulatory care pharmacies in the US.